Dogwood Blossoms
Chorus
Sweet Adelines Int.
Ah, spring!! We are singing - and are looking forward to possible summer performances (and our show in October). We'll post any performance dates as we know them - we hope to get together with the Fun Center Chordsmen in Mansfield and perhaps have a presence at the Mt. Vernon Music and Arts Festival...
We were ready to take part in our regional competition via video but had to cancel as several members were not feeling well. BUT - the good news is that we have those competition numbers ready to perform and are now working on more songs! We are happy to report that our members are healthy again!
We were delighted to have some visitors on May 17th and look forward to seeing them again. We love to share 4-part harmony with others

Our quarter auction on April 30th was a huge success - thanks to all who attended! We had a great line-up of vendors: Thirty-One Gifts; Pampered Chef; Paparazzi; Scentsy; Tupperware; Baldeschwiler Art & Design; Creative Beauty with Michele; Damsel in Defense; Young Living Essential Oils; and Energy Sharing by Maureen. On top of all that, the chorus offered some baskets - two with chocolate and one with spring items.
We are going forward with plans for a show this year (after having to cancel the last 2 years...)! Please put October 16th on your calendars as we plan a fun, entertaining Sunday afternoon show. Details will be posted in the future!
We hope to welcome women and girls to our rehearsals in the near future. We rehearse on most Tuesday evenings at 7:00 at Central Christian Church, at 17833 Gambier Rd. (Rt. 229) in Mt. Vernon Ohio. We would love to meet you and introduce you to the joys of singing 4-part harmonies!!! Feel free to call us or leave a message on our Facebook page "Dogwood Blossoms Chorus" for more information. Don't read music? No worries - we go over the parts in rehearsal and we also have learning tracks available for much of our music.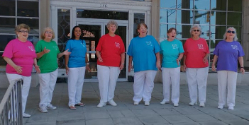 Photo: Double quartet at Mt. Vernon Music and Arts Festival
From left to right: Dixie, Gail, Michele, Barb B., Cindy, Susie, Barb S. & Debi
Watch or "like" our page "Dogwood Blossoms Chorus" on Facebook for day-to-day information.
Call (740) 720-3221 for more information!
Welcome!
Dogwood Blossoms Chorusis an extraordinary group of women who gather together in celebration of the art form known as barbershop music - we sing 4-part harmony music, a cappella style, in several genres. We are a chapter of Sweet Adelines International.
We can be heard throughout the year, singing for civic and charitable organizations, private groups, churches, community events, and fundraisers.
Dogwood Blossoms Chorus

Rehearsals: Tuesdays 7:00 pm
Central Christian Church

17833 Gambier Rd.

Mount Vernon, OH 43050

Call: 740-720-3221 or E-mail:

dogwoodblossomchorus@yahoo.com

Do you sing? Do you want to be part of a special group of women? find out how to Join Us!
We love to entertain by putting on our own musical events each year for the community, our friends, and families. In an effort to stay committed to singing and performing at the highest level possible, we compete each year in a regional contest.
Please contact us to sing at your next special event!
About

Dogwood Blossoms Chorus




---




About Barbershop

Find out more about this amazing, original artform and our organization.




Hear Us!

Hear a few of our tracks to get an idea of what close harmony is all about!