Dogwood Blossoms
Chorus
Sweet Adelines Int.
Just like all of you, our chorus has been hard-pressed to keep up with all the current news - mandates, suggestions, impressions, feelings and more! The constant changes have made it difficult to plan or to publicize our goings-on, so we really haven't posted much either here on our website or on our Facebook page! As the virus has settled down a bit and some community activities are starting to rebound, it's time for a short update.
We did indeed start to have outside rehearsals at First Baptist Church's shelter in Mt. Vernon. Of course weather was a factor - we did have to cancel a couple of times - but we were able to sing and share our friendship while keeping socially distant! A few of us were under the roof of the shelter and the rest set up lawn chairs several feet apart in the grass. It was SO good for all of us to hear our voices come together in harmony again! Our next step just took place - some of us met at our normal rehearsal venue at Central Christian Church on Rt. 229 east of Mt. Vernon to see if we could safely meet inside; after all, the days as getting shorter and outdoor rehearsals won't work much longer! Again, we observed social-distancing and took as many precautions as possible. Of course we are not ready to invite guests into the mix, for the safety of the community as well as ourselves, but we will keep you all posted. We are heartened to know that everyone in our chorus is virus-free so far!
We did take advantage of a brief respite in the corona virus protocol at the end of June and held our installation dinner - again following social distance suggestions. We installed our officers for 2020-21 had a great time. Our Sweet Adeline of the Year was announced then - many "Congratulations!" to our director Donna Dudgeon! She goes above and beyond for us and we are so appreciative! We also honored our coach, David Calland, for his expertise and friendship - he too has gone above and beyond for us!
As we announced before, our annual show that was scheduled for October is cancelled, but we continue to work on our music and hope to resume that event next year. Meanwhile, we are hoping to have a presence at another event in October... more on that a bit later.
So - we will do all we can to keep our chorus going! We encourage anyone who is interested to contact us! Although we are not functioning in "normal" mode right now, we plan to "revive" ASAP and would welcome you!!!
Our chorus would love to grow in numbers - the more the merrier, right? Even though we are not meeting right now, keep this information in mind! When our lives return to "normal", please visit us on Tuesday evenings at 7:00 pm at Central Christian Church, 17833 Gambier Rd. (Rt. 229 East) in Mt. Vernon OH. It is not necessary to read music - we'll provide learning tracks and lots of help as needed. AND we promise that singing with our chorus is LOTS of fun! It's also very healthy - promotes good posture and breathing and relieves stress!
Our board members and officers for 2020-21 are:
President - Barb Bower
Vice President - Cindy Brown
Treasurer - Karen Burgess
Remaining board members - Barb Blaschke, Kathy Butcher, Michele Coscia and Bonnie Rutherford
We celebrate our tenacious members who received recognition for their milestones in longevity as Sweet Adelines:
20 years - Kathy Butcher, Becky Moore, Liz Moore, and Bonnie Rutherford

25 years - Sherry Patterson

30 years - Barb Bower and Barb Snow

35 years - Dixie Waite

40 years - Susan Baldeschwiler, Karen Burgess, and Maureen Hunter
Each one was recognized with a pin and certificate. Many congratulations to all!!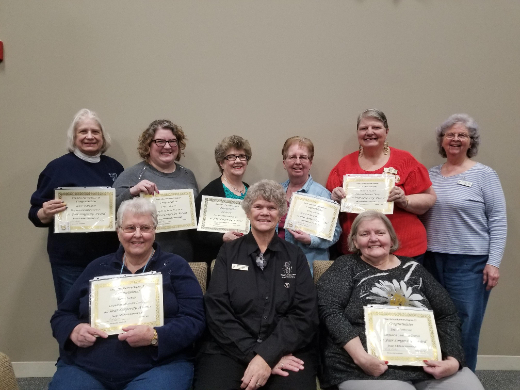 Watch or "like" our page "Dogwood Blossoms Chorus" on Facebook for day-to-day information.
Call (740) 720-3221 for more information!
Welcome!
Dogwood Blossoms Chorusis an extraordinary group of women who gather together in celebration of the art form known as barbershop music - we sing 4-part harmony music, a cappella style, in several genres. We are a chapter of Sweet Adelines International.
We can be heard throughout the year, singing for civic and charitable organizations, private groups, churches, community events, and fundraisers.
Dogwood Blossoms Chorus

Rehearsals: Tuesdays 7:00 pm
Central Christian Church

17833 Gambier Rd.

Mount Vernon, OH 43050

Call: 740-720-3221 or E-mail:

dogwoodblossomchorus@yahoo.com

Do you sing? Do you want to be part of a special group of women? find out how to Join Us!
We love to entertain by putting on our own musical events each year for the community, our friends, and families. In an effort to stay committed to singing and performing at the highest level possible, we compete each year in a regional contest.
Please contact us to sing at your next special event!
About

Dogwood Blossoms Chorus




---




About Barbershop

Find out more about this amazing, original artform and our organization.




Hear Us!

Hear a few of our tracks to get an idea of what close harmony is all about!