Dogwood Blossoms
Chorus
Sweet Adelines Int.
July is upon us and June just flew by - and was full of activity! We are counting our blessings:

1) We have a friend in David Calland, barbershop coach extraordinaire! David made the trip from Columbus twice in June to give us individual and chorus coaching - learning to sing well makes it so much more fun! David will be with us four more times this summer and we look forward to learning more singing tips and techniques.
2) We were privileged to share the stage with several other choruses and quartets for the opening night of Ohio Harmony Xperience at Mt. Vernon Nazarene University, a camp where youth come to sing and learn about vocal production and singing barbershop harmony. What a blast - and the campers seemed to really enjoy our silly performance of "Kazoo Koncerto", complete with kazoos.
3) Our two youngest members attended Ohio Harmony Xperience and had a whole lot of fun! They performed onstage at the camp's closing show on June 30 - one of them even sang in a quartet. They tell us they can't wait to go again next year...
4) We were present at First Friday - look for us at more First Fridays and ask about the chorus.
The chorus is gearing up for our annual show, "Sing It A Cappella", on Sunday, October 14 at Memorial Theater - save the date! It will be a fun show and will feature our chorus as well as some other a cappella groups. We have decided to honor women who have survived or are battling cancer; we are inviting any of those women to join us onstage for a couple of songs - you only need to come to a few rehearsals. Please join us!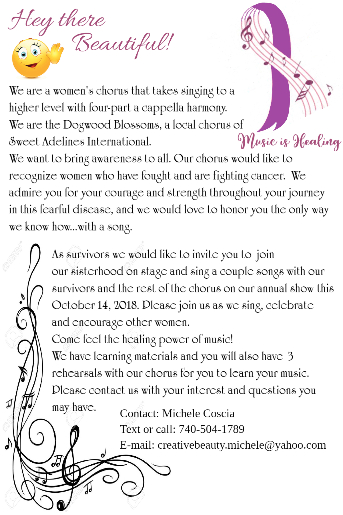 As if that weren't enough to keep us busy, we are also hosting a quarter auction on August 4 at the Moose Lodge in Mt. Vernon - several vendors will be there with items up for bid! Wonder what a quarter auction is? The details are coming soon!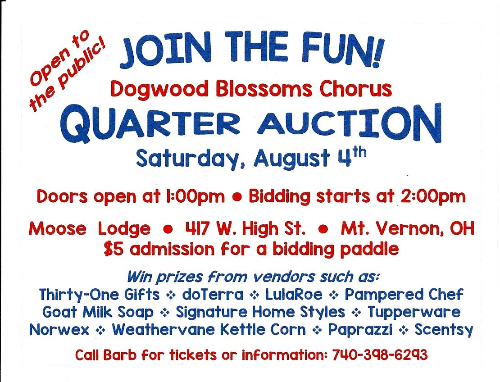 On top of all the above activity, the chorus welcomes women and girls who like to sing to visit us at a rehearsal on most Tuesday evenings at 7:00 pm at Central Christian Church, 17833 Gambier Rd. (Rt. 229 East) in Mt. Vernon OH. It is not necessary to read music - we'll provide learning tracks and lots of help as needed!
Watch or "like" our page "Dogwood Blossoms Chorus" on Facebook for day-to-day information.
Enjoy your summer!
Call (740) 720-3221 for more information!
Welcome!
Dogwood Blossoms Chorusis an extraordinary group of women who gather together in celebration of the art form known as barbershop music - we sing 4-part harmony music, a cappella style, in several genres. We are a chapter of Sweet Adelines International.
We can be heard throughout the year, singing for civic and charitable organizations, private groups, churches, community events, and fundraisers.
Dogwood Blossoms Chorus

Rehearsals: Tuesdays 7:00 pm
Central Christian Church

17833 Gambier Rd.

Mount Vernon, OH 43050

Call: 740-720-3221 or E-mail:

dogwoodblossomchorus@yahoo.com

Do you sing? Do you want to be part of a special group of women? find out how to Join Us!
We love to entertain by putting on our own musical events each year for the community, our friends, and families. In an effort to stay committed to singing and performing at the highest level possible, we compete each year in a regional contest.
Please contact us to sing at your next special event!
About

Dogwood Blossoms Chorus




---




About Barbershop

Find out more about this amazing, original artform and our organization.




Hear Us!

Hear a few of our tracks to get an idea of what close harmony is all about!