Dogwood Blossoms
Chorus
Sweet Adelines Int.
That autumn chill is in the air: pumpkins and Halloween decorations are up; pumpkin spice items are everywhere; and the holidays are coming up quickly! Our annual show is now a memory and we are about to move on to Christmas songs so we can be ready for holiday performances... now is a good time to schedule us for parties...
The chorus had a great time at our show "Sing It A Capella" on October 14! We were joined onstage by other a cappella groups: "Jubilate", a women's gospel quartet; 3 ensembles from Fredericktown High School: and "SHANK", a men's barbershop quartet. Many, many thanks to them for enhancing our show! We also want to thank David Calland, our long-time friend and coach, for singing a solo in our closing number.
We were delighted that several local women joined us onstage for three numbers and were honored as cancer survivors - what a privilege to sing with these strong, determined ladies!!! We hope they will return and sing with us during the holidays.
At this time, we also thank our wonderful director, Donna Dudgeon, for her patience and guidance as we prepared for the show and all the chorus leaders for making it such a success.
We are looking forward to another fun event on October 27. Our Vendor's Fair and Quarter Auction will be held at the Martinsburg Activity Center at 122 W. Liberty St. in Martinsburg OH; doors open at 12:00 noon and the bidding starts at 1:00 pm. Our vendors include: Thirty-one Gifts; LipSense; LulaRoe; Pampered Chef; Yoder's Fine Foods; Tupperware; Tastefully Simple; Norwex; Weathervane Kettle Corn; Paparazzi and Scentsy plus the chorus will have a couple of baskets for auction. This will be a great opportunity to have some fun AND do some early Christmas shopping! Call Barb for tickets or more info at (740) 398-6293.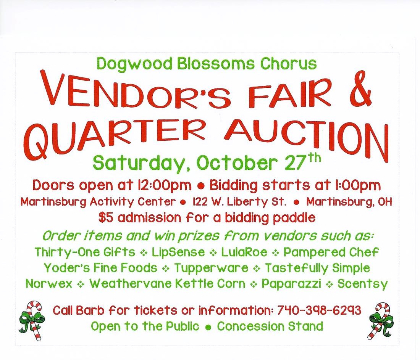 Don't forget - the chorus welcomes women and girls who like to sing to visit us at a rehearsal on most Tuesday evenings at 7:00 pm at Central Christian Church, 17833 Gambier Rd. (Rt. 229 East) in Mt. Vernon OH. It is not necessary to read music - we'll provide learning tracks and lots of help as needed. AND we promise that singing with our chorus is LOTS of fun!
Watch or "like" our page "Dogwood Blossoms Chorus" on Facebook for day-to-day information.
Call (740) 720-3221 for more information!
Welcome!
Dogwood Blossoms Chorusis an extraordinary group of women who gather together in celebration of the art form known as barbershop music - we sing 4-part harmony music, a cappella style, in several genres. We are a chapter of Sweet Adelines International.
We can be heard throughout the year, singing for civic and charitable organizations, private groups, churches, community events, and fundraisers.
Dogwood Blossoms Chorus

Rehearsals: Tuesdays 7:00 pm
Central Christian Church

17833 Gambier Rd.

Mount Vernon, OH 43050

Call: 740-720-3221 or E-mail:

dogwoodblossomchorus@yahoo.com

Do you sing? Do you want to be part of a special group of women? find out how to Join Us!
We love to entertain by putting on our own musical events each year for the community, our friends, and families. In an effort to stay committed to singing and performing at the highest level possible, we compete each year in a regional contest.
Please contact us to sing at your next special event!
About

Dogwood Blossoms Chorus




---




About Barbershop

Find out more about this amazing, original artform and our organization.




Hear Us!

Hear a few of our tracks to get an idea of what close harmony is all about!