Dogwood Blossoms
Chorus
Sweet Adelines Int.
Ah, winter!!! We have had to cancel 2 rehearsals (one was a coaching session, sadly...) so far this year due to freezing rain or cold, but we have resumed normal rehearsals on Tuesday evenings when weather permits. We are working on a new song and have the wonderful David Calland coming to us on February 12 to coach us and perhaps add a little pizzazz to the interpretation.
Several of us sang at the Mount Vernon Developmental Center on February 3 - always fun! And several of us enjoyed each other's company with a visit to an ice cream shop afterward - after all, one needs to keep up one's strength, right?
As we think about the remaining winter months, come ward off "cabin fever" with us! The chorus welcomes women and girls who like to sing to visit us at a rehearsal on Tuesday evenings at 7:00 pm at Central Christian Church, 17833 Gambier Rd. (Rt. 229 East) in Mt. Vernon OH. It is not necessary to read music - we'll provide learning tracks and lots of help as needed. AND we promise that singing with our chorus is LOTS of fun! What better way to spend some chilly winter evenings than to be in the warmth of friends and music?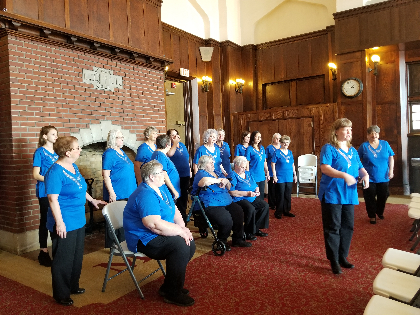 Singing in the beautiful Mt. Vernon Developmental Center
Watch or "like" our page "Dogwood Blossoms Chorus" on Facebook for day-to-day information.
Call (740) 720-3221 for more information!
Welcome!
Dogwood Blossoms Chorusis an extraordinary group of women who gather together in celebration of the art form known as barbershop music - we sing 4-part harmony music, a cappella style, in several genres. We are a chapter of Sweet Adelines International.
We can be heard throughout the year, singing for civic and charitable organizations, private groups, churches, community events, and fundraisers.
Dogwood Blossoms Chorus

Rehearsals: Tuesdays 7:00 pm
Central Christian Church

17833 Gambier Rd.

Mount Vernon, OH 43050

Call: 740-720-3221 or E-mail:

dogwoodblossomchorus@yahoo.com

Do you sing? Do you want to be part of a special group of women? find out how to Join Us!
We love to entertain by putting on our own musical events each year for the community, our friends, and families. In an effort to stay committed to singing and performing at the highest level possible, we compete each year in a regional contest.
Please contact us to sing at your next special event!
About

Dogwood Blossoms Chorus




---




About Barbershop

Find out more about this amazing, original artform and our organization.




Hear Us!

Hear a few of our tracks to get an idea of what close harmony is all about!