Dogwood Blossoms
Chorus
Sweet Adelines Int.
Did you have a nice Valentine's Day? Our secret sisters spread a lot of Valentine cheer to each other last week - so much fun for those who participate! It's one of the "fun things" our members do.
As we mentioned a while back, our costume committee has been busy finding some new outfits for the chorus. We sorted and numbered 2 new tops and a skirt early this month and then fitted our members. We want to look good for our performances and can't wait to show them off!
Twelve of our members traveled to Independence OH on January 31 for a couple of days and nights; we gathered with other Sweet Adelines in our region to learn about singing techniques, showmanship, leadership, and even some social media instruction! Always a good time with lots of singing, laughter, and food - and yes, we some great fellowship after our scheduled activities too. On top of all that, several of our members were recognized for their milestones in longevity as Sweet Adelines:
20 years - Kathy Butcher, Becky Moore, Liz Moore, and Bonnie Rutherford

25 years - Sherry Patterson

30 years - Barb Bower and Barb Snow

35 years - Dixie Waite

40 years - Susan Baldeschwiler, Karen Burgess, and Maureen Hunter
Each one was recognized with a pin and certificate. Many congratulations to all!!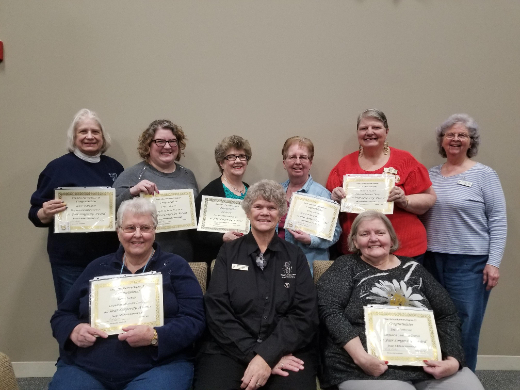 We are now working on several songs in anticipation of our annual show in October - it's going to be a fun event, so mark your calendars for Oct. 11, 2020! We won't give away the specifics, but we are having a great time learning the music - these are fun songs and several are new to many of our members. AND we will have one of our favorite coaches come to work with us on March 17 - David Calland always brings some great ideas for us to put our best voices forward!
Our members know that singing is a great way to deal with the winter months! Even though this winter hasn't been very difficult so far, the short days and colder temperatures can cause "cabin fever". Get out of the house and warm up by singing with us - the chorus welcomes women and girls who like to sing! Our chorus would love to grow in numbers - the more the merrier, right? Visit us on Tuesday evenings at 7:00 pm at Central Christian Church, 17833 Gambier Rd. (Rt. 229 East) in Mt. Vernon OH. It is not necessary to read music - we'll provide learning tracks and lots of help as needed. AND we promise that singing with our chorus is LOTS of fun! What better way to while away the winter hours than to be in the warmth of friends and music?
Watch or "like" our page "Dogwood Blossoms Chorus" on Facebook for day-to-day information.
Call (740) 720-3221 for more information!
Welcome!
Dogwood Blossoms Chorusis an extraordinary group of women who gather together in celebration of the art form known as barbershop music - we sing 4-part harmony music, a cappella style, in several genres. We are a chapter of Sweet Adelines International.
We can be heard throughout the year, singing for civic and charitable organizations, private groups, churches, community events, and fundraisers.
Dogwood Blossoms Chorus

Rehearsals: Tuesdays 7:00 pm
Central Christian Church

17833 Gambier Rd.

Mount Vernon, OH 43050

Call: 740-720-3221 or E-mail:

dogwoodblossomchorus@yahoo.com

Do you sing? Do you want to be part of a special group of women? find out how to Join Us!
We love to entertain by putting on our own musical events each year for the community, our friends, and families. In an effort to stay committed to singing and performing at the highest level possible, we compete each year in a regional contest.
Please contact us to sing at your next special event!
About

Dogwood Blossoms Chorus




---




About Barbershop

Find out more about this amazing, original artform and our organization.




Hear Us!

Hear a few of our tracks to get an idea of what close harmony is all about!